Resources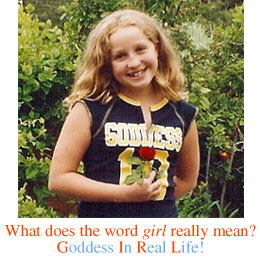 Maiden Spirit™ Resources of Inspiration
Our resource list is comprised of suggestions from MAIDEN SPIRIT mentors, moms and girls. If you have a girl-empowering resource you would like to share, please email us: info@lifeblessing.org
Books
The Cry of the Icemark by Stuart Hill, ages 12-14 ~ A 13 year old girl finds herself suddenly queen of her tiny country. She uses her wit, cunning, and military skill to accomplish the seemingly impossible.
Rebel by Willo Davis Roberts, ages 12-14 ~ A head-strong girl is faced with a mystery when she volunteers to help her eccentric grandmother renovate a house over the summer.
A Girl Named Disaster by Nancy Farmer, ages 12-14 ~ After Nhamo's mother dies, she learns that at age 11 she is to be married to a cruel man with 3 wives. She runs away and survives using only her knowledge of the world and of her religion to guide her. Note to reader: the protagonist endures physical and emotional challenges - this is a dark story, with a bittersweet ending.
Sabriel, Lireal, and Abhorsen by Garth Nix, ages 12-14 ~ A school girl discovers her inherited powers of communicating with the spirit world, and discovers how to use them wisely. The next two books are companions to the first, and are about Sabriel's half sister, Lireal.
All by Herself, Poems by Ann Whitford Paul, ages 8+ ~ picture book filled with 14 poems about girls who made a difference to their families, the people they met and America.
The Book Of Goddesses by Kris Waldherr, all ages ~ gorgeous pictures and stories about goddesses from all over the world.
Hitty, Her First Hundred Years by Rosemary Wells & Susan Jeffers, ages 8-14 ~ Hitty is a little wooden doll, carved for a little girl girl who's father is away at sea. She has many, many adventures during her first hundred years, including meeting president Lincoln! Hitty won the 1930 Newbery Award.
American Girl a series of books – historical fiction of girls from different time periods
The Care and Keeping of You by Valorie Schaefer, ages 8+ ~ addresses questions growing girls have about their bodies - from hair care to healthy eating, bad breath to bra buying, pimples to periods. It offers guidance about basic hygiene and health without addressing issues of sexuality.
The Feelings Book: The Care and Keeping of Emotions by Lynda Madison, ages 9+ ~ how to handle powerful feelings and focus on developing positive self-esteem. Girls' comments and questions appear throughout.
Pippi Longstocking by Astrid Lindgren, ages 7+ ~escapades of a lucky little girl who lives with a horse and a monkey - but without any parents - at the edge of a Swedish village.
Period. A Girl's Guide by JoAnn Loulan, ages 8+
Rites of Passage by Linda Laflamme, ages 8-12
Stone Soup Magazine for young artists and writers, ages 9+
The Daring Book for Girls by Buchanan & Peskawitz, ages 10+
Are You There God? It's Me, Margaret by Judy Blume, 1972
The Period Book: Everything you don't want to ask (but need to know) by Karen Gravelle, Jennifer Gravelle and Debbie Palen.
Now you've Got Your Period, by Ellen Voelchers Mahoney.
What's Happening to my Body? Book for Girls: A Growing Up Guide for Parents and Daughters by Lynda Madaras, Area Madaras, Simon Sullivan, Jackie Aher
The Girl's Book of Wisdom: Empowering, Inspirational Quotes from over 400 Fabulous Females by Catherine Dee, 1999
Girls Speak Out, Finding Your True Self by Andrea Johnston, New York, NY: Scholastic Press, 1997
Alanna: The First Adventure (Song of the Lioness) by Tamora Pierce
I Believe In Me: A Book of Affirmations by Connie Bowen
Additional recommendations for parents:
Celebrating Girls: Nurturing and Empowering Our Daughters by Virginia Beane Rutter, Conari Press 1996
The Seven Sacred Rites of Menarche: The Spiritual Journey of the Adolescent Girl by Kristi Meisenbach Boylan, 2001
Embracing Persephone: How to be the Mother You Want for the Daughter You Cherish by Virginia Beane Rutter
Mother Daughter Wisdom by Christiane Northrup
105 Ways to Celebrate Menstruation by Kami McBride
From Magical Child to Magical Teen by Joseph Chilton Pearce ~ author asserts that spirituality is the natural course of adolescent development.
Becoming  Peers – Mentoring Girls Into Womanhood -
A  Diva's Guide To Getting Your Period -
Articles

NPR Story on Girls Rites of Passage (audio available)
Four Days, Nights: A Girls' Coming-Of-Age Ceremony by The Kitchen Sisters
Movies
Kiki's Delivery Service 2003 DVD by Hayao Miyazaki in which a 13-year-old girl meets the world head on as she spends her first year soloing as an apprentice witch. Kiki is still a little green and plenty headstrong, but also resourceful, imaginative, and determined.
Believe In Me 2006 DVD ~ the true story of a young man whose dream of coaching boys' high school basketball are derailed when the school board assigns him to the girls' basketball team instead. The girls and the coach need to earn each other's trust, and despite the opposition of the small conservative town, they learn how to play to win.
Whale Rider 2003 DVD ~ based on the 1987 novel "The Whale Rider" by New Zealand Māori author Witi Ihimaera. A contemporary story of love, rejection and triumph as a young Maori girl fights to fulfill a destiny her grandfather refuses to recognize.
Fly Away Home 1996 DVD ~ A recently reunited father and daughter decide to attempt to lead a flock of orphaned Canada Geese south.
Real Women Have Curves 2002 DVD, PG-13 ~ starring America Ferrera, about a strong latina girl who pursues her dreams of going to college.
Music
Play – 5 teenage girls from Sweden play light-hearted pop music, with strong voices and girl-power lyrics
Jewel - folk and acoustic rock, writes her own intelligent, poetic lyrics
Indigo Girls – acoustic rock with smart lyrics written by the two women who make up the band
Sweet Honey in the Rock, I Got Shoes, Still The Same Me - a cappella musical ensemble of African-American women
Web Sites
www.newmoon.org ~ the website for New Moon Magazine for girls
www.girlpower.com ~ writings from girls of varying perspectives
www.celebrategirls.com ~ ways to celebrate your daughter's girl's moon rising?
www.daughters.com ~ provides parents of girls with information, guidance, and support to raise strong, self-confident daughters
www.dadsanddaughters.org ~ an organization maximizing the power and potential of father-daughter relationships.
www.teenvoices.com ~ the website for Teen Voices Magazine
www.teentalkingcircles.org ~ Daughters of the Moon, Sisters of the Sun
www.nwhp.org ~ National Women's History Project
www.artemisguide.com ~ links to most women's studies programs in the US
www.mum.org ~ Museum of Menstruation website
www.inotherwords.org ~ Portland's feminist bookstore
www.ourbodiesourselves.org ~ the Boston Women's Health Collective website
www.unicef.org/voy ~ Voices of Youth from UNICEF
www.agirlsworld.com ~ articles, advice columns, girl-only pen-pal program, movie reviews
www.girleffect.org ~ the Girl Effect; bringing about real change in our world.
800Muses.com ~ an online resource for women.~ supporting women doing work they love
Marketplace
www.gladrags.com ~ reusable cloth menstrual pads
www.moondiary.com.au ~Moon Diary
www.newmoon.org ~ Magazine by and for girls with no Ads.
-----------------------------------------------------------------------------------------------------------------------------------
The Life Blessing Institute | Maiden Spirit™
Phone: (503) 631-3906 | Email: info@lifeblessing.org